Hello My name is Kiss (no that was not taken from the band) and im going to share a lot of info on a few of my favorite classic artists.
First,I love all music,as long as it makes my heart sing. The reason why I love classic music is because for the most part it is original. I just love the classics because it has this sound that I cant explain through words,I can only hear and feel it. Its just so beautiful. Even though I may not have grown up in those times I can still understand it and it makes sense to me,I dont know why but thats just the way its always been.
Im going to post lots of articles and pics on some legends and certain periods of time,so that you can get your info all in one place.
If your looking for music sites and instrument sites then scroll to the bottom of the page.


I will show you pictures and short bios about various legends of music,mostly rock n roll though. Also I will give you some good sites to download music and good places to buy music instruments and cds/records/tapes online, and these are places that I myself have used so I know that they defenityly have some good quality to em. Anyway I could be writing about music for the next 40 years and sometimes it takes me a while to write about one single artist because I want to make it the best I can and make sure that I have the right info so what im going to do is post articles that have already been done and put them all in one spot so that you dont have to be searching the internet for the next 2 hours. Here It Is.
Can You Dig it?
Rock and Roll changed in many ways during the hippie era. Though it always ways a sensuous music form since itsformation in the 1950s, it tended to hide its sexuality behind euphemisms. It was never political, and seemed to expresscontentment with middle class American values. Even if Middle America didn't always like it, their kids loved it. Maskedwith behind its playful, happy veil, Rock and Roll in the Fifties subtly thumbed its nose at Middle America.During the hippie era, a generation of young people threw off the conventions of their parents and their music followed.The Civil Rights Movement, the Bay of Pigs fiasco, Vietnam and Watergate all proved to this generation that the oldmorays no longer functioned, and indeed, had never functioned for large segments of the population. Their musicfollowed after them. Rock and Roll left it's just for fun veil. It became political, taking on social issues, it became morefrank about sexuality. Rock went from Jerry Lee Lewis' "Great Balls of Fire" to Jimi Hendrix's "Foxy Lady". Womenlike Janis Joplin also played a larger role, though the music form remained a male-dominated business.Rock and Roll was and is the music of the Hippie Generation. It evolved as they evolved. As they became sexuallyfree, and politically jaded Rock and Roll did too. Rock chronicles the entire culture of a generation of Americans.

Elvis
Elvis Presley was a man with great storys and talents,
Everybody knows him as "The King" wich indeed he was.
He made some extremely influential music that will be listened by young and old for years to come. The King Is Never Dead.

Elvis Presley was the first real rock and roll star. A white southerner who singing blues laced with country and country tinged with gospel, Presley brought together music from both sides of the color line. Presley performed this music with a natural hip swiveling sexuality that made him a teen idol and a role model for generations of cool rebels. Presley was repeatedly dismissed as vulgar, incompetent and a bad influence. However the force of his music and image signaled to the mainstream culture it was time for a change.
Elvis' musical influences were the pop and country music of the time, the gospel music he heard in church and at the all-night gospel sings he frequently attended, and the black R&B he absorbed on historic Beale Street as a Memphis teenager. In 1954, he began his singing career with the legendary Sun Records label in Memphis. In late 1955, his recording contract was sold to RCA Victor. By 1956, he was an international sensation. With a sound and style that uniquely combined his diverse musical influences and blurred and challenged the social and racial barriers of the time, he ushered in a whole new era of American music and popular culture.
His talent, good looks, sensuality, charisma, and good humor endeared him to millions, as did the humility and human kindness he demonstrated throughout his life. Known the world over by his first name, he is regarded as one of the most important figures of twentieth century popular culture. Elvis died at his Memphis home, Graceland, on August 16, 1977.
"Don't criticize what you don't understand, son. You never walked in that man's shoes."
"Greed has driven the world crazy. And I think I'm lucky that I have a place over here that I can call home. "

The Great Nina Simone
By Roger Nupie

Eunice Waymon was born in Tryon, North Carolina as the sixth of seven children in a poor family. The child prodigy played piano at the age of four. With the help of her music teacher, who set up the "Eunice Waymon Fund", she could continue her general and musical education. She studied at the Julliard School of Music in New York.
To support her family financially, she started working as an accompanist. In the summer of 1954 she took a job in an Irish bar in Atlantic City, New Jersey. The bar owner told her she had to sing as well. Without having time to realize what was happening, Eunice Waymon, who was trained to become a classical pianist, stepped into show business. She changed her name into Nina ("little one") Simone ("from the French actress Simone Signoret").
Combining Bachian counterpoint, the improvisational approach of jazz and the modulations of the blues, her talent could no longer be ignored. Other characteristics of the Simone art are: her original timing, the way she uses silence as a musical element and her often understated live act, sitting at the piano and advancing the mood and climate of her songs by a few chords.
Sometimes her voice changes from dark and raw to soft and sweet. She pauses, shouts, repeats, whispers and moans. Sometimes piano, voice and gestures seem to be separate elements, then, at once, they meet. Add to this all the way she puts her spell on an audience, and you have some of the elements that make Nina Simone into a unique artist.
The Diva, who was as well an Honorary Doctor in Music and Humanities, has an unrivalled legendary status as one of the very last 'griots". She is and will forever be the ultimate songstress and storyteller of our times.
Johnny Cash
"The Master of Life's been good to me. He has given me strength to face past illnesses, and victory in the face of defeat. He has given me life and joy where other saw oblivion. He Has given new purpose to live for, new services to render and old wounds to heal.Life and love go on, let the music play."
Johnny Cash was born February 26, 1932, in Kingsland, Arkansas. He made his first single, "Hey Porter", for Sun Records in 1955. In 1958 he moved to Columbia Records. He had long periods of drug abuse during the 1960s, but later that decade he successfully fought his addiction with the help of singer
June Carter Cash
, whom he married in 1968. In 1971 he appeared in the western
A Gunfight
(1971) with
Kirk Douglas
. Cash made a few films but quite a few appearances on television, both in series and made-for-TV films, and was especially effective as a rural Southern sheriff in the 1930s determined to bring to justice a wealthy landowner who committed murder because he believed he was above the law, in
Murder in Coweta County
(1983) (TV), a drama based on a true story. In 1975 Cash wrote his autobiography, "Man In Black", which is now out of print. In the late 1980s he moved from Columbia Records to Mercury, then in the next decade moved again to American Recordings.Amonst his biggest hit records was "I Walk the Line", "Ring of Fire" and "A Boy Named Sue".After several years of ill health, he died of complications from diabetes on 12 September 2003, only a few months after the death of his beloved wife.
Marilyn Manson


Maybe not classic,but still pretty damn good.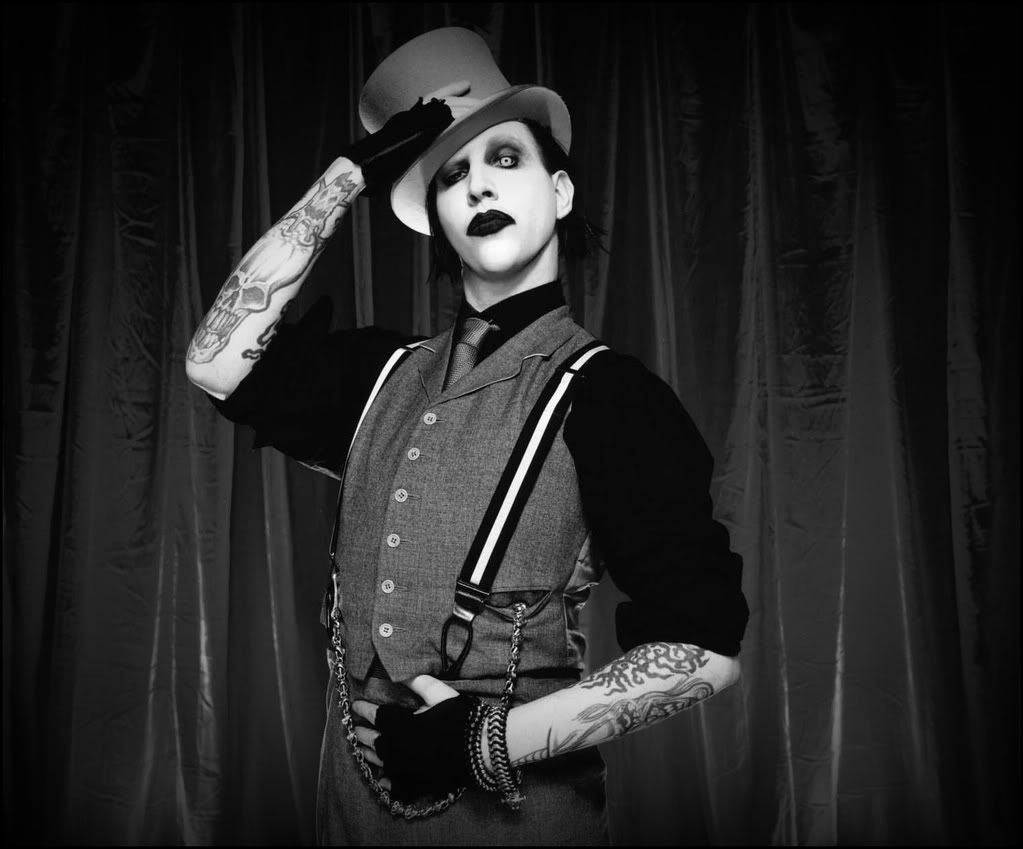 Love him or hate him, the self-proclaimed "Antichrist Superstar" Marilyn Manson was indisputably among the most notorious and controversial entertainers of the 1990s.Celebrated by supporters as a crusader for free speech and denounced by detractors as little more than a poor man's Alice Cooper, Manson was the latest in a long line of shock rockers, rising to the top of the charts on a platform of sex, drugs and Satanism. Though widely dismissed by critics, his brand of metal nevertheless struck a major chord with the youth market -- on the strength of a masterfully orchestrated marketing campaign, he became a mainstream anti-hero, much to the chagrin of conservative politicians and concerned parents. Manson was born Brian Warner in Canton, Ohio; at the age of 18, he relocated to Tampa Bay, Florida, working there as a music journalist. In 1989, he became friends with guitarist and fellow outsider Scott Mitchell; they decided to form a band, with Mitchell rechristening himself Daisy Berkowitz and Warner adopting the name Marilyn Manson.With the addition of bassist Gidget Gein and keyboardist Madonna Wayne-Gacy, the group -- originally dubbed Marilyn Manson and the Spooky Kids -- begin self-releasing cassettes and playing gigs, their Gothic stage show notable for Manson's elaborate make-up and homemade special effects. Jettisoning their drum machine in favor of one Sara Lee Lucas, the band's sound began taking on a harder edge, and by 1992 they were among the most popular acts in the South Florida area. In 1993, Nine Inch Nails' Trent Reznor came calling, offering both a contract with his Nothing Records label as well as the chance to open for NIN the following spring; Manson accepted both offers, and the group's debut LP, Portrait of an American Family, appeared during the summer of 1994. With new bassist Twiggy Ramirez replacing Gein, the group's notoriety began to soar -- most infamously, during an appearance in Salt Lake City, Manson ripped apart a copy of the Book of Mormon while on-stage. The Church of Satan's founder Anton LaVey also bestowed upon him the title of "Reverend."While some onlookers dismissed Manson's behavior as crass audience manipulation, his cult following -- comprised almost entirely of disaffected white suburban teens -- continued to swell, and with the release of the 1995's Smells Like Children EP the band broke into the mainstream, propelled by their hit cover of the Eurythmics' "Sweet Dreams (Are Made of This)." Berkowitz quit a short time later, and was replaced by guitarist Zim Zum; their next LP, 1996's Antichrist Superstar, debuted at the number three spot on the pop album charts. As Manson's popularity grew, so did the furor surrounding him -- his concerts were regularly picketed by civic groups, and his music was the subject of widespread attacks from the right-wing and religious fronts. Again, however, his quick embrace of the media spotlight called into question the true sincerity of his revolutionary aims -- with a cover story in Rolling Stone and a best-selling autobiography, The Long Hard Road Out of Hell, some onlookers doubted whether Manson had sold his soul to Satan, or just sold his soul, period. The glam-inspired Mechanical Animals followed in 1998, with the resulting tour yielding the live Last Tour on Earth a year later.Holy Wood (In the Shadow of the Valley of Death) came out at the end of 2000. The band toured to support the album in 2001 and during a July show in Michigan, Manson was charged with criminal sexual conduct after performing an alleged offensive act on a security guard. December saw Manson's version of "Tainted Love" appear on the Not Another Teen Movie soundtrack while another security guard filed a civil suit alleging Manson had rubbed his pelvis on the guard's head. The July 2001 sexual conduct charges were lowered to a misdemeanor in January of 2002 and the civil suit was dropped soon after. May of 2003 saw the release of The Golden Age of Grotesque, which spent a week on top of the album charts and ended up on more than a few critics' year-end Top Ten lists. In April of 2004 the album Lunch Boxes and Choklit Cows appeared, credited to Marilyn Manson & the Spooky Kids -- Spooky Kids being the name of Manson's earliest band. Manson fought the release and court-ordered some artwork removed that was too close to the art to which the singer owned the copyright. At the end of September the Lest We Forget collection was released, covering the highlights of Manson's career and including a new cover version of Depeche Mode's "Personal Jesus."After his marriage with model Dita Von Teese went downhill, Von Teese effectively left Marilyn and moved out of his house. Manson sunk into a bit of depression, and was subject to "the classic rock and roll scenario of people robbing me behind my back", as Manson himself put it. Marilyn left his studio environment and got a fully-furnished studio home, where he could literally "write a song, walk down two doors and record it." Commenting on the new creative environment, Manson feels "liberated." Marilyn plans on releasing a new album, "Eat Me, Drink Me" and has released a song from it titled "If I Was Your Vampire". Marilyn's full intention thru-out the album is to seduce someone, but he hasn't mentioned who. Marilyn and his band will be performing a World Tour upon the release of the new album.
Janis Joplin & Big Brother and The Holding Company
"I won't quit to become someone's old lady."
By Laura Joplin
Janis Lyn Joplin was born January 19, 1943 and died October 4, 1970. In between she led a triumphant and tumultuous life blessed by an innate talent to convey powerful emotion through heart-stomping rock-and-roll singing. Born and raised in Port Arthur, Texas, a small Southern petroleum industry town, she gravitated to artistic interests cultivated by parents Seth and Dorothy Joplin.
Janis broke with local social traditions during the tense days of racial integration, standing up for the rights of African Americans whose segregated status in her hometown seared her youthful ideals. Along with fellow band beatnik-reading high school students, she pursued the non-traditional via arts and literature, especially music. They gravitated to folk and jazz with Janis especially taken with the blues. Discovering an inborn talent to belt the blues, Janis began copying the styles of Bessie Smith, Odetta and Leadbelly. She played the coffee houses and hootenannies of the day in the small towns of Texas. She later ventured to the beatnik haunts of Venice, North Beach and the Village in New York, eventually landing in Austin, Texas as a student at the University of Texas. Jumping into the on-the-edge lifestyle cultivated by the beats, Janis thrilled at her creativity, but almost lost herself in experiments with drugs and alcohol, especially speed.
Returning home for a year to question her life direction, she excelled at college but was never content. Music still called her to her in spite of its dangerous association with drugs. "The two aren't wedded," her friends counseled. When old Austin friend, Chet Helms, then in San Francisco, called to offer her a singing audition with an up-and-coming local group, Janis was tempted. She found a vital San Francisco community, turned upside down by the flower children of 1966, and was offered the singing position in a relatively obscure group called "Big Brother and the Holding Company."

Big Brother played in the Bay area and up and down the California coast, to ever-increasing enthusiasm for their unique brand of psychedelic rock. They initially signed with Mainstream Records, a small outfit that did little promotion, but did produce an album and two singles, "Blindman" and "All Is Loneliness." Then during the summer of 1967--the "Summer of Love"--Big Brother played a large concert, The Monterey International Pop Festival. Janis smashed through her anonymity with Big Mama Thornton's "Ball and Chain" and the world took note.The group was actively courted by Albert Grossman, one of the most powerful entertainment managers of the day. Through his representation, they signed a three-record recording contract with Columbia Records, who bought out Mainstream's rights. Their "Cheap Thrills" album was released in August, 1968 and soon went gold, presenting the hits "Piece of My heart" and "Summertime." The band was playing to large audiences, for big fees, and the billing now read "Janis Joplin with Big Brother and the Holding Company." The pressure mounted, income rose and hippie rockers indulged themselves with their new ability to use high-priced drugs. Drugs began affecting their performing and work relationships and in Christmas of 1968, the group played its last gig together.
Bob Marley was a hero figure, in the classic mythological sense. His departure from this planet came at a point when his vision of One World, One Love -- inspired by his belief in Rastafari -- was beginning to be heard and felt. The last Bob Marley and the Wailers tour in 1980 attracted the largest audiences at that time for any musical act in Europe.
Bob's story is that of an archetype, which is why it continues to have such a powerful and ever-growing resonance: it embodies political repression, metaphysical and artistic insights, gangland warfare and various periods of mystical wilderness. And his audience continues to widen: to westerners Bob's apocalyptic truths prove inspirational and life-changing; in the Third World his impact goes much further. Not just among Jamaicans, but also the Hopi Indians of New Mexico and the Maoris of New Zealand, in Indonesia and India, and especially in those parts of West Africa from wihch slaves were plucked and taken to the New World, Bob is seen as a redeemer figure returning to lead this In the clear Jamaican sunlight you can pick out the component parts of which the myth of Bob Marley is comprised: the sadness, the love, the understanding, the Godgiven talent. Those are facts. And although it is sometimes said that there are no facts in Jamaica, there is one more thing of which we can be certain: Bob Marley never wrote a bad song. He left behind the most remarkable body of recorded work. "The reservoir of music he has left behind is like an encyclopedia," says Judy Mowatt of the I-Threes. "When you need to refer to a certain situation or crisis, there will always be a Bob Marley song that will relate to it. Bob was a musical prophet."

"Got no time to for spreadin roots,The time has come to be gone.And tho our health we drank a thousand times,Its time to ramble on."

Led Zeppelin was rock's first real Heavy Metal band. Yet many of their fans were not even fans of metal music. They came about after guitarist Jimmy Page, (who was rock's most sort after session man in the early and mid sixties) was left with what was the remains of theYardbirds. He had join the Yardbirds to record with them on what would be their final album, Little Games in 1967. In the spring of 1968, Page played lead guitar on Donovan's song "Hurdy Gurdy Man" which also featured bassist John Paul Jones. Jones had heard rumors that the Yardbirds might break up and told Page he would like to be part of any new band he might put together. By the summer of '68 the Yardbirds' frontman Keith Relf, along with James McCarty left the band leaving behind Page and bassist Chris Dreja with the rights to the name and obligation of fulfilling an upcoming fall tour. Page wanted to hire vocalist Terry Reid as Relf's replacement, but Reid was still with Procol Harum and suggested Page check out his friend, Robert Plant, who was singing for a band called Hobbstweedle. After hearing Plant sing, Page asked him to join the Yardbirds. About the same time, Dreja left the band and Jones joined the group. Plant then suggested that Page hire his former drummer John Bonham, who played with Plant in the group, The Band Of Joy. At first Bonham turned them down as he was being offered more money by others, but by that September he agreed to join them. They played the previously booked Yardbirds engagements in late September '68 as the "New Yardbirds". The following month they changed the name to Led Zeppelin (the name was suggested by the Who's Keith Moon, who got the name from fellow Who member John Entwistle, who came up with the name and wanted to use it for his backup band). Page felt a new name was needed since they really were no longer in any way the Yardbirds. They wanted to play the blues, but in a way not yet done by any other bands.
Led Zep then signed with Atlantic Records in the United States and began to record their debut album, which was released in early 1969, along with a tour of the U.S. They started their tour in America since they felt England would only look upon then as the "old" Yardbirds. They were paid very little at first, playing one show for only $200. But quickly they got hot. The album Led Zeppelin, made the US top ten and the band toured non stop the entire year in both America and England. While on the road they recorded their second album Led Zeppelin II, which was released on October 22, '69 and spend seven weeks at number one. Considering it passed the Stones new album Let It Bleed and knocked the Beatles' Abbey Road from the number one spot two months after its release, it was most definitely a powerful statement.
Led Zep kept touring through 1970. They found the time to record their third LP and Led Zeppelin III was released that October. Although it still had some heavy numbers like "Immigrant Song", the album was a little more mellow than the first two albums. That December they started to record their fourth album and sessions lasted till the next summer, several things held up the new album and the LP would not be released till the end of 1971. The band not only wanted the album to be untitled, but wanted nothing written on it; no credits or any text anywhere on the album, on its inside or outside sleeves. They wanted the music to do the talking. They were eventually talked out of it by Atlantic Records and there were credits added to the inside paper sleeve, but still, nothing was written on the front cover to identify the album or who put it out, and the album was left untitled by the band. It did get to be know unofficially as Led Zeppelin IV. The songs on the album were indeed powerful and the album reach number two on the charts. One of the songs was "Stairway to Heaven", which would not only go down as Led Zep's best song ever, but rock's best ever song too, as far as most rock fans feel. In 1972 the band did less touring and worked on their fifth album. It would be released in the spring of '73 and titled Houses Of The Holy. Once again the album was filled with a little bit of everything and was another top seller, reaching number one, despite bad press reviews about it. The tour that supported the album broke just about all of the then records for attendance, as did the nightly gate cash receipts. Near the end of the tour while in New York City, someone broke into their hotel's safety deposit box and got off with the first nights gross from the NYC gig, $205,000.00 in cash. It was the single highest theft from a deposit box in Manhattan's history. Yet the band's members didn't seem to be fazed one bit by it.
There would be no new releases in 1974 but they did establish their own record label, Swan Song. In '75, the double album Physical Graffiti came out.on their new label. Once again it was an immediate success. But a planned tour had to be canceled when Plant and his wife were involved in a serious car crash. It took a full year for Plant to recuperate. Unfortunately, more bad things were on the horizon for Plant and the band. In the spring of '76 their new album Presence debuted at number one in both America and England even though it didn't get good reviews. Later that year their film The Song Remains The Same also received poor reviews. In the spring of 1977 they returned to tour America, but only two months into the tour tragedy hit when Plant's six-year-old son died of an infection and the rest of the tour was canceled.
Their eighth studio album, In Through The Out Door, wasn't released till September of 1979. What would go down as their final tour started in May of '80 in Europe. That September as they were preparing for their upcoming American tour at Page's home, Bonham was found dead in bed following an all-day drinking binge. More than likely rock's best drummer, Led Zep knew they could not go on without him and disbanded a month later. After the breakup the remaining members went on to solo careers. In 1985, they reunited to play Live Aid. Then in '88 the got together one more time to play at Atlantic's 25th Anniversary Concert. Page and Plant would get together as a duo in '95 and completed a successful international tour.
- Keno, 1999

Ray Charles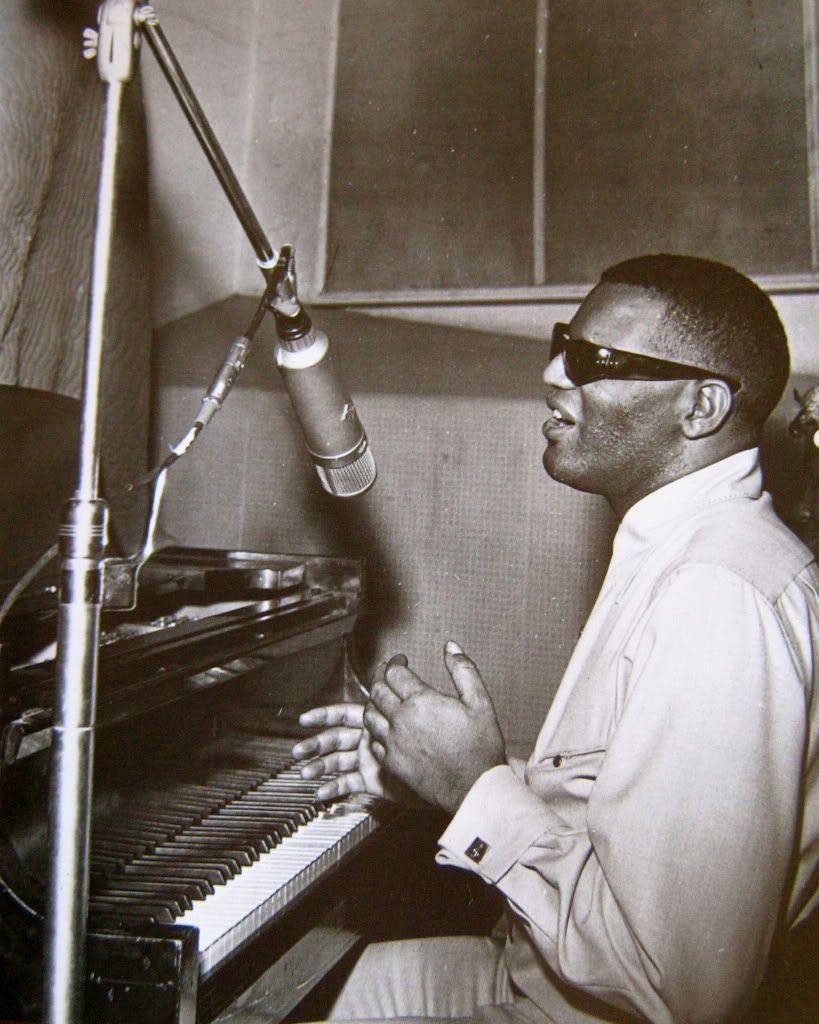 "I was born with music inside me. Music was one of my parts. Like my ribs, my kidneys, my liver, my heart. Like my blood. It was a force already within me when I arrived on the scene. It was a necessity for me-like food or water. "
(born September 23, 1930, Albany, Georgia, U.S.—died June 10, 2004, Beverly Hills, California) American pianist, singer, composer, and bandleader, a leading black entertainer billed as "the Genius." Charles was credited with the early development of soul music, a style based on a melding of gospel, rhythm and blues, and jazz music.
When Charles was an infant his family moved to Greenville, Florida, and he began his musical career at age five on a piano in a neighbourhood café. He began to go blind at six, possibly from glaucoma, completely losing his sight by age seven. He attended the St. Augustine School for the Deaf and Blind, where he concentrated on musical studies, but left school at age 15 to play the piano professionally after his mother died from cancer (his father had died when the boy was 10).Charles built a remarkable career based on the immediacy of emotion in his performances. After emerging as a blues and jazz pianist indebted to
Nat King Cole
's style in the late 1940s, Charles recorded the boogie-woogie classic "Mess Around" and the novelty song "It Should've Been Me" in 1952–53. His arrangement for Guitar Slim's "The Things That I Used to Do" became a blues million-seller in 1953. By 1954 Charles had created a successful combination of blues and gospel influences and signed on with Atlantic Records. Propelled by Charles's distinctive raspy voice, "I've Got a Woman" and "Hallelujah I Love You So" became hit records. "What'd I Say" led the rhythm and blues sales charts in 1959 and was Charles's own first million-seller.Charles's rhythmic piano playing and band arranging revived the "funky" quality of jazz, but he also recorded in many other musical genres. He entered the pop market with the best-sellers "Georgia on My Mind" (1960) and "Hit the Road, Jack" (1961). His album Modern Sounds in Country and Western Music (1962) sold more than 1,000,000 copies, as did its single, "I Can't Stop Loving You." Thereafter his music emphasized jazz standards and renditions of pop and show tunes.From 1955 Charles toured extensively in the United States and elsewhere with his own big band and a gospel-style female backup quartet called The Raeletts. He also appeared on television and worked in films such as Ballad in Blue (1964) and The Blues Brothers (1980) as a featured act and sound track composer. He formed his own custom recording labels, Tangerine in 1962 and Crossover Records in 1973. The recipient of many national and international awards, he received 13 Grammy Awards, including a lifetime achievement award in 1987. In 1986 Charles was inducted into the Rock and Roll Hall of Fame and received a Kennedy Center Honor. He published an autobiography, Brother Ray, Ray Charles' Own Story (1978), written with David Ritz.
Jimi Hendrix

Born in Seattle, Washington, he followed a medical discharge from the 101st Airborne Division (from a broken ankle after a parachute jump). Hendrix, who had been playing guitar (left handed) since childhood, initially made his living supporting touring soul and blues musicians, including Curtis Knight, B. B. King and Little Richard during 1965. His first notice came from appearances with The Isley Brothers, notably on the two-parter "Testify" in 1964. On October 15, 1965, Hendrix signed a three year recording contract with Ed Chaplin, receiving $1 and 1% royalty on records with Curtis Knight. The agreement was later to cause continual litigation problems with Hendrix and other record labels.
By 1966 he had his own band, Jimmy James and the Blue Flames, and a residency at the Cafe Wha? in New York City. While with the Blue Flames, he was discovered by Chas Chandler, of British rock group The Animals, who brought him to England, where Chandler as the record producer helped Hendrix form a new band, The Jimi Hendrix Experience, with bassist Noel Redding and drummer Mitch Mitchell.
After a few concerts, the band started to gain a reputation amongst their contemporaries, impressing Eric Clapton, Jeff Beck, as well as members of The Beatles and The Who, who signed him to their record label. This promise was borne out in their first single, a cover of "Hey Joe", a stylized blues song that was virtually a standard for rock bands at the time.
Further success came with the follow-up, the incendiary original "Purple Haze", whose heavily distorted guitar sound would be highly influential for the next 20 years, and the ballad "The Wind Cries Mary". These three songs were all Top 10 hits. 1967 also saw the release of the group's first album, Are You Experienced, whose mix of melodic ballads ("Remember"), pop-rock ("Fire"), psychedelia ("Third Stone From The Sun") and traditional blues ("Red House") would prove the template for much of their later work. Hendrix was taken to hospital suffering burns to his hands after setting his guitar on fire for the first time at the Astoria Theatre in London on March 31, 1967. He was later warned by Rank Theatre management to "tone down" his stage act after causing damage to amplifiers and stage equipment at his shows.
At the instigation of Paul McCartney the band was booked for the Monterey Pop Festival, and the concert, featuring Hendrix's iconic burning and smashing guitar, was immortalised by filmmaker D. A. Pennebaker in his film Monterey Pop. The Montery festival was seen as a triumphant homecoming. This was followed by a short tour opening for the pop group The Monkees, who asked for him simply because they wanted to see him play. Unfortunately, the Monkees' audience didn't warm to Hendrix and he quit the tour just as "Purple Haze" began to chart. Chas Chandler later admitted that being thrown off The Monkees tour was designed to give maximum media impact and outrage for Hendrix given the complaints from the conservative Daughters of the American Revolution.
Meanwhile back in England, Hendrix's wild-man image and musical gimmickry (such as playing the guitar with his teeth) continued to garner him publicity. 1967 also saw the release of his second album. Axis: Bold as Love was in the vein of the album Are You Experienced, with tracks such as "Little Wing" and "If 6 Was 9" showing his continuing mastery of his instrument. However, increasing personality differences with Noel Redding combined with the influence of drugs and alcohol led to a disastrous tour of Scandinavia. On January 4, 1968, Hendrix was jailed by Stockholm police, after completely trashing a hotel room.
The band's third recording, the double album Electric Ladyland 1968 , was more eclectic and experimental, featuring a lengthy blues jam ("Voodoo Chile"), the jazz inflected "Still Raining, Still Dreaming" and what is probably the definitive version of Bob Dylan's "All Along the Watchtower". (Hendrix credited British band The Alan Bown for inspiration on the arrangement.) The recording of the album was extremely problematic, with Hendrix's work habits becoming erratic and a studio filled with his hangers-on caused longtime producer Chandler to quit on December 1, 1968. Chandler complained that Hendrix's insistence on doing multiple takes on every song ("Gypsy Eyes" apparently took 43 takes and he still wasn't satisfied with the result), combined with what he saw as incoherence caused by drugs led to him to sell his share of the management to Mike Jeffrey.
Despite this, many of the album tracks show Hendrix's expansion beyond the scope of the original trio (it is said that the sound of this record would help inspire Miles Davis' sound on Bitches Brew). Due to this expansion of horizons, and a deterioration in his relationship with his bandmates (and particularly Redding), the Experience broke up. His relations with the public also came to a head when on January 4, 1969 he was accused by television producers of being arrogant after playing an impromptu version of "Sunshine of your Love" past his allotted timeslot on the BBC1 show Happening for Lulu. On May 3 he was arrested at Toronto International Airport after heroin was found in his luggage. He was later bailed for $10,000 US. On June 29, Noel Redding formally announced to the media that he had quit the Jimi Hendrix Experience, although he effectively ceased to be with Hendrix during most of the recording of Electric Ladyland.
By August of 1969, however, Hendrix had formed a new band in order to play the Woodstock festival. The set, while notably under-rehearsed, ragged, and played out to a slowly emptying field of revellers, featured an improvised instrumental version of "The Star Spangled Banner", distorted almost beyond recognition, clearly symbolic of the unrest in US society over both civil rights issues and the Vietnam War. "The Star Spangled Banner" was an instant classic. The inspiration was politically motivated and it was the cry of the new generation.
The Woodstock band was short lived, and Hendrix formed a new trio, Band Of Gypsys, comprising Billy Cox, an old army buddy, on bass and Buddy Miles on drums, for two concerts around New Year 1969/70. His association with Miles however was not to last and ended abruptly during a concert at Madison Square Gardens on January 28, 1970, when Hendrix walked out after playing just two songs, telling the audience "I'm sorry we just can't get it together". Miles later stated during a television interview that Hendrix felt he was losing the spotlight to other musicians. The rest of that year was spent recording sporadically, often with Mitchell, and attempting to carry out the Rainbow Bridge project, an ambitious combination of film/album/concert set in Hawaii. On July 26, Hendrix played at his hometown of Seattle at Sicks Stadium, where under the influence of drugs he started verbally abusing members of the audience.
In August he played at the Isle of Wight festival with Mitchell and Cox, expressing disappointment onstage at his fans' clamour to hear his old hits rather than his new ideas. On September 6, during his final European tour, Hendrix was greeted by booing and jeering by fans while performing at the Fehmarn Festival in Germany in a riot-like atmosphere. Bassist Billy Cox quit the tour and headed back to the United States after reportedly being dosed with PCP (phencyclidine). Hendrix remained in England, and on September 18th, he died in bed of suffocation (vomit inhalation) after taking too many of an unfamiliar German sleeping pill. His body was returned home and he was interred in the Greenwood Memorial Park, Renton, Washington, USA.
He left behind more than 300 unreleased recordings, and became legendary as one of the 1960s' rock-n-roll musicians, like Janis Joplin and Jim Morrison, to 'go on to the next world' at so young an age.
Hendrix's musicianship along with his lyrical style definitely created a unique 'experience'. Still today, not all Jimi Hendrix' musical configurations are known.
Jimi Hendrix, a 20th century music artist, is still being listened to in the next century, around the world, by new generations of music lovers. His material can be found in many new media forms - VHS, CD, DVD - doing live performances and personal interviews. Jimi Hendrix stepped into his own mind and experiences, shared it with the world, and so changed millions of peoples formulated ideas about music. As with other loved musicians, Jimi Hendrix' music is known to 'speak' to one's soul.

"I just hate to be in one corner. I hate to be put as only a guitar player, or either only as a songwriter, or only as a tap dancer. I like to move around. "


Roger Daltrey
formed the Detours in 1962, with several member changes and role swaps abound,
John Entwistle
joined. Sometime later, on John's recommendation,
Pete Townshend
was added to the line up. In the meantime, The Detours had become a four-piece band; the drummer was changed with
Keith Moon
during early 1964.The High Numbers, as the four musicians were now calling themselves, had become a Mod band, with the help of new manager Pete Meaden. The name fluctuated between The High Numbers and The Who; the High Numbers was quickly abandoned and The Who was born.As their popularity gained momentum, by being one of the better live acts on the circuit and with Pete destroying his guitars, and Keith with his drums too, on stage, this gave them maximum publicity with the predominantly working class audience that had come to see them.As the sixties drew to a close, the Hippy movement had swamped the World, with its ideology of Tune In, Turn On and Drop Out. This was to climax in one of the World's most famous of music festivals, Woodstock the Music and Arts Fair, in August 1969. The Who played here, in front of an average crowd of 300,000 plus. This performance catapulted them into the American market and World domination, mainly because the whole festival was filmed and released in major cinemas within the year. This was also done with the help of their highly controversial double concept album from 1969, Tommy.What followed was a live album, Live at Leeds, from Leeds University, England, and recorded on Valentines Day night, 1970.Quadrophenia, the concept album about a 1960s Mod, came out in 1973. This double album came with its own problems, such as playing with backing tapes at the live concerts. It was soon abandoned. Other albums followed as well as concerts, during the earlier 1970s.But as the money came pouring in, the four members took individual lives and sometimes concerts and albums were far between, the most noticeable difference was with
Keith Moon
, his over indulgence in
drugs
and drink were taking their toll. He put on too much weight and his lifestyle showed his drumming was becoming unpredictable.Keith made his only solo album, Two Sides of The Moon, in 1975 while living in California, for MCA Records. At the age of just 32 years, he died; it was an accidental overdose of prescribed medicine, which was to help him cut down on his alcohol addiction. An irony if there ever was one.After a short reprise, with
Kenney Jones
on the drums, The Who officially split up in 1982. Reforming for the 1985 Live Aid Concert at Wembley Stadium, then with a World tour of Tommy during the late eighties. There was also a tour of an an updated Quadrophenia during the mid nineties.With the three remaining players, they toured under the name of The Who, a fine idea, until the death of
John Entwistle
in a Las Vegas hotel room on June 27th, 2002.
Memphis Minnie
It all started when seven-year-old Lizzie Douglas was given a guitar. This was her tool of choice for the next 40 years as she blazed a Blues trail as one of the first popular female Blues recording artists of the 20th century. She earned respect from her fellow Blues artists and fans as a gifted player and dedicated performer and even though her moniker says "Memphis", she was a deep influence to the Blues that would come from post-war Chicago. The ultimate mentor to any female Blues artist.
Taking the name Memphis Minnie during her time in the city in the 1920's, she played in jug bands, sang Gospel, and played Blues and on Beale Street. She would start her recording career here with the hit Bumble Bee, a song that went on to become a Chicago Blues standard. She collaborated and lived with guitarist Kansas Joe McCoy at this time, and after they parted, she would have a guitarist/partner by her side for the rest of her career.
Minnie moved to Chicago in the 1930's starting a band with a bass player and drummer. A Blues power trio in the '30's!
Memphis Minnie's guitar abilities were a rare for her time. Most women performers then were in Vaudeville, and were just vocalists, Minnie was the Bonnie Raitt of her time, great voice, great guitar, great songs, and and very popular. Bonnie has always given her mad props as did all of Minnie's male contemporaries. She was also one of the first to pick up an electric guitar, ushering in the ere that spawned Rock & Roll. Imagine the granite constitution she had, escorting her through what must have been the impossibly hard times endured by the musicians, much less a woman, of the era.
Minnie was in the Ringling Brothers circus!
Minnie wrote, or co-wrote many of her hits with her three musician husbands, McCoy, Ernest "Little Son Joe" Lawlars, and Casey Bill Weldon. When The Levee Breaks, later recorded by Led Zeppelin, Bumble Bee, later recorded by Muddy Waters as Honey Bee, Me and My Chauffeur Blues, and My Baby Don't Want Me No More made Minnie one of the most popular recording artists from the Depression until World War II.
Minnie loved to wear bracelets made of silver dollars!
A link between the Country Blues of the 1920's and '30's and the post-war electric Blues, Lizzie created her own musical world that has gone on to become a common denominator in most of today's music. Minnie suffered a career-ending stroke in 1961 and was confined to nursing homes back home in Memphis until her death in 1973.




Okay So you know you know a lot of information about some classic legends, now you may be thinking "I want to download some music or I want to buy some music". Well im going to give you a couple good places to get some real fine music and equipment and incase you forgot, I have used these places so I know they work.
Enjoy!
Download Music:
Vuze (Not The Best,But you can get it for free,It made my internet stop over and over)
Itunes
Rhapsody ( I would say the best!)
Deezer
Napster
imesh
kazaa
Buy Cds/Records/Tapes/Posters:
Allposters.com (Great Selection)
MusicStack.com
VintageVinyl.com
VinylConections.co.uk
Vintage-recordings.com
CdUniverse.com ( I really like this place!)
buy.com
bestbuy.com
barewalls.com
Music Equipment:
musiciansfriend.com
guitarcenter.com
gibson.com
fender.com
folkmusician.com
kennedyviolins.com
feinviolins.com
harmonicastore.com
americanmusical.com
livingdrums.com
Anyway,I hope you enjoyed my site and I hope you got what you were looking for,if not then there is google search.
Peace Love and Free Will
-Kiss